MKM Global Holdings Sdn Bhd (MKMGH) a wholly-owned subsidiary of Institut Koperasi Malaysia (IKM) has entered into a Cooperation Agreement (MOU) with the China Asia Economic Association towards a joint venture with Luban Workshop China.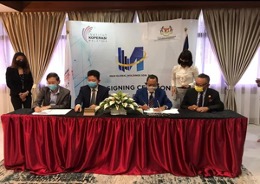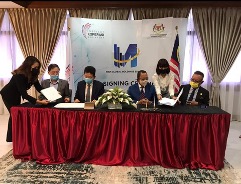 Luban Workshop is a vocational education by the Chinese Government in providing technical training to promote the 4.0 industrial revolution. This cooperation is a step forward for MKMGH in responding to the Government's challenge to jointly strengthen Technical and Vocational Education and Training (TVET) in Malaysia.
The MOU was signed by Datuk Wira (Dr) Rosli Mat Hassan, Chairman of MKMGH cum Board Member of IKM and Datuk Andy Zhao Guanming, Executive Vice President of China Asia Economic Association.
Also present were Datuk Iskandar Abdul Malik, Executive Director of MKMGH and IKM Board of Directors, Datuk Sri Amim A. Wahab, Board of Directors of the Malaysian Cooperative Commission (SKM) and Board of Directors of IKM and Datuk Yong Teck Shing, Executive Director of the China Asia Economic Association.